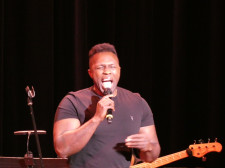 Joshua Henry is known for his Broadway stage performances in "Hamilton" that has dazzled audiences of all ages. The Tony-nominated leading roles in "Carousel" lead him to the role in "The Scottboro Boys", and "Violet." Tonight's "Get Up Stand Up" dictionary performance was a explosive performance of "Soul" "Gospel" thought parallels to what we all know today as star revival for the affluent American community.
News York City - The 92nd Street Y, New York presented communications with gospel movement sounds performed perfectly by Grammy Award winner and triple Tony nominee Joshua Henry. Joshua Henry has engraved Broadway audiences as Aaron Burr in Hamilton, starring opposite Audra McDonald in Shuffle Along, and in his Tony nominated run as Billy Bigelow in the hit revival of Carousel. Now Joshua Henry – a Lyrics & Lyrics™ veteran - returned to 92NY for the only New York City performance of Get Up Stand Up, a concert experience Henry describes as "a soulful bop through the songs that have moved and grooved us through the decades." Get Up Stand Up is in person.
Henry's Get Up Stand Up showcased artistry in swinging naturally from the classic soul of Aretha Franklin, Marvin Gaye, and Sam Cooke to Broadway gems by Stephen Sondheim and Rodgers & Hammerstein, and material from his own solo album and upcoming musical projects about legacy to his son.
The audiences experience tonight was a celebration to perform, heal, and engage with the lyrics of James Briwn and the like when Henry performed. The artistry was written straight from Henry's heart, according to the artist, and music from Broadway performed tonight was his life 8 days a week (including when his son was born). This show was a community bravo (clap, clap) and confirmed as written from Henry's heart.
Musicians
Jordan Peters, Music Director, Guitar
Addison Frei, Keys
Donald Barrett, Drums
Chelton Grey, Bass
Share: