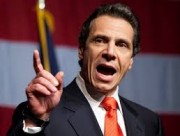 News
•
updated: Sep 8, 2015
Governor Andrew M. Cuomo today announced that $500,000 dollars in state grants will be awarded to colleges to increase the access for the 2016 high school graduates. The grant is called the New York State College Action grant and it will award up to $5,000 to eligible high schools and community organizations that promote activities aimed at empowering New York seniors who apply to college.
According to Governor Cuomo, increasing access to higher education is essential in strengthening the state's economy. Cuomo stated, "this funding will help more low income and at risk students get access to a college education and unlock the potential that comes with it." Eligible high school students today that are 50 percent eligible to participate in the federal free and reduced-priced lunch program will qualify for grant opportunities. Also, qualified not-for-profit organizations that serve low-income students within their membership will also be eligible to apply.
The College Action Grants are administered by the New York State Higher Education Services Corporation. An applicant must agree to participate during a statewide initiative during College Application Week, October 26-30, 2015, New York State's Student Financial Aid Awareness Campaign's FAFSA Completion Hands-on Workshop, January - March, 2016, or College Signing Day, May 2016. These grant funds will inspire and assist thousands of students who would have otherwise struggled to make their higher education vision into a reality.
For more information regarding this news, visit: www.hesc.ny.gov/collegeaction
Share: