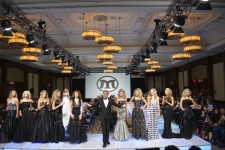 News
•
updated: Feb 15, 2017
Luis Machicao is well rounded in the fashion industry when it comes to gender equality today. The Peruvian Designer had one thing in mind at the 25th Season Couture Fashion Week 2017 Fall Collection, socially manifesting language for the elite community. With free speech becoming the latest social condition in training the elite with new dialect today, Luis Machicao (USA/Peru) asserts lifestyle.
Manhattan, NY - What is your story today when it comes to asserting your own language and culture as an American citizen? Are models photographed based upon the color of their skin? In a social justice glossary, language is explained by a community of people that manifest personal, social, institutional, and structural levels that are the same. Power is not controlled by the outsiders of the group because meanings are not the same and the ability to serve influence and choice is a cause, issue, or concern.
For Luis Machicao, Designer, personal power in designing fashion is a self-determination that only Mr. Machicao can express using his Fall 2017 Collections. For photographers, institutional powers for decision makers to shop the runway is not a color issue it is an unearned social, political, economic, and psychological benefit. The designs are flawlessly cut to reduce oppression and violence within a vehicle of behaviors that targets "hate crimes". Microaggressions in a common model world whether it is verbal or non-verbal is not longer worn by the model, but experienced by the audience has observed his results.
Share: