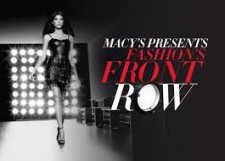 Macy's Presents Fashion Front Row 2016 at Madison Square Garden New York to ignite a catwalk performance of Justice, Music, Fashion, and a Need for change to the season's hottest fashions. The Who's Who of fashion designs included breath-taking presentations from Calvin Klein, I.N.C. International Concepts, RACHEL Roy, Tallia, Tommy Hilfiger, William Rast and the "I Am Not Too Old To Have Sex" hit the splits sensation, Betsey Johnson.
New York City ~ Macy's legacy of charitable contributions can not go unnoticed when building future directions of history witnessed by the mark of 34 years of hosting annual fashion and fundraising extravaganzas. Macy's history has transformed in tens of millions of dollars over the last three decades using high-ceiling windows in the fight for children's illnesses and cancer. Delegates of fashion heavily support causes of HIV/AIDS, education, and future research challenges to make founding partners of institutional power and privilege come alive today as a divine right.
Founding Partner, American Express, our Signature Partners, Lancome, and Samsung, as well as many other vendors and corporate partners, along with dedicated employees, have generously supported tonight's performances to boost the New York City economy. The Corporate strategy of Macy's CEO, Terry J. Lundgren, revolutionalized legal scholars, experts on capital markets and social rights activists to spell professions and persuasions under the beneficiary, Council of Fashion Designers of America Foundation (CFDA.COM). Business leaders and business elders all joined in to raise critical awareness funds showcasing their best Business Models of the fashion and entertainment industry.
An electrifying performance from "Flo Rida" echoed themes of financial capital for Human Rights activist as his dancers promoted the meaning of women empowerment by not causing a sex disturbance on stage with their underwear. The International genre-busting superstar has sold over 60 million singles worldwide and has gone 3x platinum into the Top 10 from his hit single My House. A new learning imperative has hit the market confronting business Performers within a changing environment.
Ariana Grande contributed to the Chief Investor, Terry J. Lundgren, of Macy's by delivering her unimaginable voice in the song performance of Dangerous Woman. The song was debuted in the Top 10 of the Billboard 100's by earning a corporate model to Executive pay scales. Ariana Grande's profound voice is the 21st century that epitomizes wealth to the society of women and fashion.
Macy's Presents Front Row charitable event will air on September 15, 2016, by E! at 8p along with a broadcast in China. Please stay tuned for an incredible authority of theatrical entrepreneurial customer service delivered to your television set as you shop like a VIP. Also, stay tuned for Spinderella of Salt & Pepper as she engages the audience with her powerful forum of connecting DJ Thought to people.
Share: