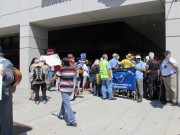 News
•
updated: Aug 26, 2015
New Jersey's Peace Action Group, a 56-year old grass roots disarmament organization protested in front of Bank Of America today across from Penn Station Newark, NJ. The peaceful Americans and the like drew the attention of supports to deliver awareness to build and enhance Israel's security using a U.S.-Israel alliance.
Why War? According to a source close to Madelyn Hoffman, Executive Director of NJ Peace Action. Iran has developed a Nuclear Enrichment Program for peace purposes with the support of Senator Kerry, and the 15 year minimum agreement means that 90 countries will endorse an international agreement that Iran signed this year. Iran's current agreement is to eliminate stockpiles of uranium, but the concern is that Iran is unapologetic in complying with policy and policy must be forced. As a result of not being a super conservative against the deal between the Obama Administration and Iran, to produce rich uranium to extract elements such as medicine for the treatment of disease, rage has set in between the Islamic World against Israel.
Twenty-six Jewish-American leaders forwarded their signed statements to Congress to support the Iran agreement and the grass roots efforts have been paid for by the No Nukes for Iran Project, a 501(c)(4) organization.
Share: