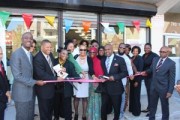 News
•
updated: Dec 9, 2015
Mayor Ras J. Baraka, the Newark Municipal Council, Dputy Mayor of Economic and Housing Development Baye Adofo-Wilson, Newark Community Economic Development Corporation President Otis Rolley, U.S. Conference of Mayors Assistant Executive Director Eugene Lowe, and Wells Fargo Northern New Jersey Region Business Banking Manager Mary Makfinsky will be presenting the City of Newark and the Newark Community Economic Development Corporation (CEDC) with a $75,000 grant, Wednesday, December 9, 2015.
Newark, NJ -- The City of Newark, along with Mayor Ras J. Baraka and Newark CEDC will be receiving a $75,000 grant for the Model Neighborhood Initiative and Community Storefront Program to fund the City's Retail Incubator program for entrepreneurs. The Retail Incubator is located at 790 Clinton Avenue, Newark, NJ, in the City's South Ward, with space that houses 5 to 10 entrepreneurs on a shared, revolving basis.
The program is recognized as Raise Newark, and the ribbon cutting in September 2015, marked the launch for October 1, 2015, South Ward's Upper Clinton Hill neighborhood. The Community Storefront Program combines real-world retail business with classroom instructions for hands-on retailing. The entrepreneur participants will apply practical training within this initiative to market their self-produced products in an effort to transform Newark's Upper Clinton Hill South Ward. In exchange for the participants becoming successful entrepreneurs, the Institute for Entrepreneurial Leadership (IFEL), an independent, not-for-profit organization will provide a 16-week training program to teach fundamentals of entrepreneurship, leadership, and business development. To date, the Newark CEDC has invested almost $20,000 into the Store Front program, and this past June, the City of Newark received a $75,000 award fro the U.S. Conference of Mayors 2015 CommunityWINS - Working/Investing in Neighborhood Stabilization - Grant Program.
Today's grant recognizes Newark's Model Neighborhood Initiative work and Community Storefront Program, as a marketing campaign to solicit businesses for more projects, launch a business, launch a venue, and schedule program participants in a pilot business to sell goods and services.
The event will take place today at the City of Newark, City Hall, First Floor Rotunda, 920 Broad Street, Newark, NJ, at 11 a.m.
Share: