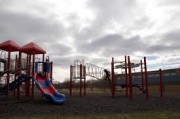 News
•
updated: Dec 9, 2015
Mayor Ras J. Baraka will be renovating the Terrell James Playground as part of a City strategy to enhance the quality of life for Newark residence in the South Ward. The construction of this playground has been named in the memory of Terrell James, an eight-year-old killed in a hit-and-run while crossing the street at Turner Boulevard near Belmont-Runyon School in March 1997.
Newark, NJ -- Assembly, No. 248, State of New Jersey was enacted to be known as the "Terrell James' Law" to stop construction of highways and exit ramps that direct motor vehicles away from exiting by public or private schools or playgrounds or other youth recreational facility within 2,500 feet of a proposed location. Terrell James was killed in a tragic accident according to a statement in the bill, and he was crossing Irvine Turner Boulevard en route to a playground near Belmont-Runyon Elementary School in Newark, NJ.
The playground currently is named after Terrell James and is scheduled to be renovated by Montclair-based RPM Development, and in his memory, local youth will pick out colors for playground tables and benches for the facility to install. The City condemned four buildings in the neighborhood thus far, and 2 and 18 Stratford Place and 23 and 25 Johnson Avenue will be sited as a reduction of crimes and other dangers to the community once the renovation has been complete.
On Thursday, December 10, at 3:30 p.m., at Stratford Place and Johnson Avenue, a ribbon cutting ceremony will take place to begin the renovations in honor of Terrell James Playground.
Share: