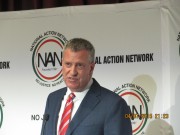 News
•
updated: Aug 21, 2015
Times Square has been plagued with young topless painted women lately. The topless painted illusion of the American Goddesses raises question as to the appropriateness of these women in the Time Square area. Times Square is known to tourist as a iconic neighborhood of vibrant Broadway shows, restaurants, and comedy clubs mapped specifically for arts an entertainment news.
New York - Mayor Bill de Blasio announced yesterday that a multiagency City task force will be assigned to address the problem of topless women and costume characters in Times Square. Serious concerns have been raised over the appropriateness of women who bare all covered in paint while soliciting tourist for money
. Does this act fall under the grounds of harassment for New Yorkers and visitors alike? Let's take a closer look at the picture!
Millions of visitors and families pour into Times Square every year whether it is to see the New Year's Eve Show Ball drop or to see the experience of energy within New York City from the "Crossroads of the World", according to Mayor Bill de Blasio. Although everyone is welcome in the land of opportunity and welcome to see the continued success of small business owners, regulations always step into play when behaviors are identified based upon the business need to draw public gatherings within the Times Square community. As a result of the aggressive solicitation by these topless women and costumed characters New Yorkers complained about being harassed along with the voices of visitors.
The task force will be co-chaired by Police Commissioner William Bratton and City Planning Commissioner Carl Weisbrod. The representatives within the task force will include the New York City Police Department, the Manhattan District Attorney's Office, the Department of Transportation, the Law Department, the Department of Consumer Affairs
, the Department of City Planning, Mayor's Office of Criminal Justice, NYC & Company, and Deputy Mayor for Housing and Economic Development Alicia Glen. The task force will also include external stakeholders from the Times Square community and local elected officials.
By October 1, 2015, the mention group will complete a study of legal and oversight issues associated with how regulations of topless women
and costumed characters will be controlled. For more information on this announcement contact: pressoffice@cityhall.nyc.gov or (212) 788-2958.
Share: