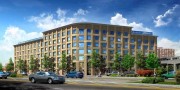 News
•
updated: Aug 21, 2015
Mayor Bill de Blasio joined the officials of the Arker Companies yesterday to break ground at the Beach Channel Senior Apartments in Far Rockaway, Queens. In 2017, a seen-story, mixed-use development will provide 100 percent affordability to 154 low-income seniors and 46 formerly homeless seniors in New York.
Far Rockaway, New York - According to the Mayor Bill de Blasio administration, Beach Channel is the first project to break ground with the City of New York under a new $350 million dollar program that is financed specifically for affordable housing for low-income seniors. As part of a recent launch by Mayor Bill de Blasio's Housing New York ​plan, the Senior Affordable Rental Apartments (SARA) Program will enable the Beach Channel project to cater to seniors who have little to no income. The guidelines for prospective residents who earn less than $36,300 per year will be eligible under the city guidelines to be housed amongst the fastest-growing population in New York City.
Due to Super Storm Sandy, the financing for the project was completed in June. There will be 20, 236 units under the de Blasio administration confirmed inside the fiscal year 2015 report. Beach Channel reflects upon the City's push to end the homelessness crisis within the homeless seniors community by referring everyone to the New York City Housing Authority and the Department of Homeless Services. Wells Fargo is also part of this great project to create affordable homeless for seniors and homeless seniors. Thanks goes out to the partners that made it possible for Beach Channel to fund and support this construction. For more information on this new development contact: pressoffice@cityhall.nyc.gov or (212) 788-2958.
Share: