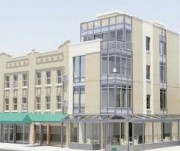 News
•
updated: Jan 14, 2016
Mayor Bill de Blasio, HPD Commissioner Been, Queens officials, residents and The Durst Organization today broke ground for 480 new affordable apartments for low-income households. The total project is to include new schools, pre-K, open space, a new supermarket, and bus service for residents in Astoria. Mayor de Blasio's Housing New York plan will contribute to 40,000 affordable apartments already financed for more than 100,000 New Yorkers.
New York -- According to Mayor de Blasio's Executive Summary, every New Yorker deserved a safe and affordable place to live, in a neighborhood that provide opportunities. Mayor Bill de Blasio, to date, has made affordable housing rapidly available through a lottery system tenant selection process, by preserving affordable housing units to both tenants and small landlords as a redesigned strategy to adjust inflation by less than 15 percent using an average monthly rent. The ideology is to provide a roof in exchange for meeting the basic needs of New Yorkers by freeing up income in every neighborhood that has experienced a crisis or mismatch between demand. Although there are still concerns for the homeless New Yorkers in shelters, thousands of New Yorkers with low-and moderate -incomes are still in high demand and considered for public investments to accommodate housing growth innovation.
"This has to be a city for everyone, and that's what we're doing every day as we build a new generation of affordable housing for families in need. We're thrilled to get shovels in the ground and bring a long-awaited addition to this community to fruition. This low-income idea is a project that delivers for the nearby Astoria Houses and strengthens this community with a new school, open space, and a supermarket. I congratulate our fellow Queens officials, the residents and the development team that worked so hard to make this day possible," said Mayor Bill de Blasio.
"This is a historic day for our family and our new neighbors," said Douglas Durst, Chairman of The Durst Organization. "In the 100-years of our company's history, we have never developed outside of Manhattan. We believe Hallets will be a model for community involvement, sustainability, and large-scale mixed-income housing development. Lincoln Equities and we have worked hand-in-hand with the local community, elected officials and the residents of the Astoria Houses to ensure this project will be a success not only for our family and our future residents but also for the people who have lived and worked on the Halletts Peninsula for decades."
"NYCHA is proud to be a partner in bringing more affordable housing, a school, and new opportunities—like a supermarket to Astoria, which will benefit the residents of Astoria Houses," said Shola Olatoye, NYCHA's Chair and CEO. "This project is an example of what's possible when partners come together to create more affordable housing. Through collaboration, we can create safe, clean and more connected communities at NYCHA developments across the City."
"This project will provide not only affordable housing in this corner of Astoria, but also parks, ball fields, a school, and a supermarket for families in this cool spot in our great city. The environmental sustainability of Hallets Point is a model, and we look forward to continuing to work with the local community to ensure this development reaches its full potential," said HPD Commissioner Vicki Been.
"Lincoln began working with, and listening to, the community on day one of the project," said Claudia Coger, President of The Astoria Houses Resident Association. "For decades there has been the talk
of revitalizing and reconnecting our community to the rest of our neighborhood, but those efforts have always fallen short. As a 50-year resident of the Astoria Houses, it is tremendously gratifying to see this project move forward, and we are eager to work the Dursts and Lincoln to make sure the project is the best it can be."
The groundbreaking ceremony for the first building will be scheduled in 2018 and will include 405 units, at least, 81 units of which will be affordable to low-income families earning 40% and 50% of AMI (incomes ranging from $24,000 for an individual up to $38,000 for a family of three). The building will also house a full-sized supermarket as part of the City's FRESH program.
The Hallets Point development overall is estimated at $1.5 billion and will include approximately 2,400 units for residents and of that, 483 affordable apartments for low-income will be available to New Yorkers. According to the press release, residents of nearby Astoria Houses will have a rental preference of 50% of all affordable housing units.
Under a seven year approval process, the new affordable housing project will include a number of state-of-art green features to include on site power generation and a waste water, or Black water, recycling system which will re-purpose more than 130,000 gallons of water a day. The project is a joint venture of The Durst Organization and Lincoln Equities Group LLC.
The 2.5 million square foot project has a partnership with the Jonathan Rose Companies and will include five residential buildings and two affordable housing buildings. This 65,000 square foot retail and community-use facility will be reserved for construction of a new K-8 public school.
Share: