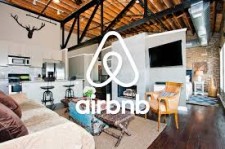 Press Release - City of Newark and AIRBNB agree to Tax AIRBNB at the same rate as hotels: 6 percent. This agreement regulates the Airbnb in Newark for the first time. The City of Newark expects to gain an estimated $750,000 in revenue from this agreement within the first year of the expansion.
Newark, NJ -- April 12, 2016 - Mayor Ras J. Baraka announced today that the City of Newark and Airbnb have reached an agreement for the City to regulate Airbnb and tax the company at the same rate as hotels.
Until now, Airbnb has not been regulated and it has been very difficult to collect hotel taxes in small amounts from the many residents who offer their homes to visitors. Now, that will change. The agreement will have the company pay Newark's hotel tax and be regulated by the city. It is estimated that this initiative will add $750,000 in revenue to the city the first year, an amount that will grow as Airbnb expands in Newark.
The agreement requires that residents renting their homes through Airbnb would no longer be responsible for dealing with tax issues. Instead, Airbnb will now become responsible for collecting the tax and sending it to the city. In addition to allowing residents to rent homes for less than 30 days, the measure will prohibit homeowners and renters from changing the character of their neighborhoods. It would also limit the number of properties that one user could rent to five to prevent the creation of informal Airbnb hotels.
Airbnb brings much needed tourism capacity to the city's hotels and has the potential to draw tourism dollars to parts of the city that are rarely visited by tourists. According to the company, 74 percent of Airbnb users stay outside of the main hotel district - and 40 percent of their dollars are spent in the neighborhood where they stay.
"The people of Newark need to be able to benefit from the companies that do business in our city. Bringing Airbnb under regulation is only fair to other lodging businesses. I am very pleased that Airbnb was so cooperative in negotiating the agreement," said Mayor Baraka.
Airbnb praised the agreement with Newark as a fair "smart, fair approach" to online home rentals.
"In cities that are interested in smart, progressive laws on home-sharing and collecting taxes on us, we want to work them," said Max Pomeranc, the company's regional head of public policy.
-NEWARK-
For more information on the City of Newark, please visit our website
www.ci.newark.nj.us<http://www.ci.newark.nj.us>
To visit the City of Newark's official photo galleries:
Share: