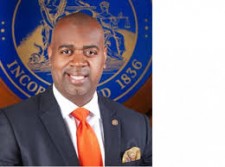 Mayor Baraka and Newark Education Success Board (NESB) announces "Pathway to Local Control" recommendations and timelines for the return of local school control today. The Mayor calls this press release report "a giant step toward Newarkers regaining control of their schools" in the City of Newark.
Newark, NJ Press Release ~ The Newark Education Success Board (NESB) is the panel that was created by Mayor Baraka and Governor Christie to guide the transition back to local control of Newark schools. At a news conference today at Newark City Hall, the NESB released its report, "Pathway to Local Control" with recommendations and a timeline to put Newark's schools under the control of Newark residents after 21 years of state operation. More than 130 of the recommendations originated from ideas submitted at community meetings and from anecdotal suggestions by parents, students, teachers, administrators and Newark residents.
According to the report, the New Jersey Department of Education will recommend the return of Governance (the key area for local control) for the 2017-2018 school year, if the Newark schools sustain their progress and demonstrate that adequate programs, policies and personnel are in place.
"This report is another giant step toward the day when the people of Newark regain control of our schools. During the coming months, my office, N.P.S. and the Board of Education will work together to plan the transition with input from the people of Newark, our students, parents, teachers, colleges and universities, business community and philanthropies," said Mayor Baraka.
Among the recommendations in the 42-page report are measures to assure close partnership between the School Board and Superintendent, increase transparency and accountability, assure meaningful parent involvement, maintain a culture of achievement and high expectations, rebuild trust with those persons who are critical of past efforts, attract a world-class leadership team, foster Community Schools and collaborate with charter schools on best practices, resources, equity polices, success indicators and more.
Other recommendations are designed to ensure that children of all races, cultural backgrounds and learning needs have an equal opportunity to learn, grow, and achieve their full potential. With regard to finances, the Success Board recommends an audit of district practices preceding transfer to local control, development of a financial improvement plan, and maintenance of sufficient reserves. With regard to every element of the transition, the NESB recommends that the Newark Board of Education continually monitor, evaluate and report out on progress.
"Thanks to the support and collaboration of the Mayor's Office, the NESB, and other city and state leaders, we are making real strides towards restoring full local control back to the district. This report, along with recent QSAC scores and the district's strategic plan, show how much progress has been made and lay out a clear path forward. We look forward to continuing to work together to move in the right direction," said Christopher Cerf, State Superintendent of Newark Public Schools Christopher Cerf.
"In our work, we, the NESB, were mindful of the myriad of needs to educate Newark's public school children, the QSAC process that determines the return to local control and the desires of the parents and community for this school district. Our recommendations reflect these three components and researched best practices in the five areas we focus on in this report." said Newark Education Success Board Chair Mary Bennett.
"On behalf of the nine members of the Newark Board of Education, I congratulate the Newark Education Success Board on the hard work that culminated in a document that will guide the school board, the District, the City, and all stakeholders who are interested in a return to full local control and successful self-governance. At the core of the NESB report is the shared value of building a community focused school district that will utilize best practices to successfully educate its children now and into the future," said Newark Board of Education President Antoinette Baskerville-Richardson.
The NESB panel had nine members, four appointed by Mayor Baraka and five appointed by the Governor Christie. The members are as follows:

* Mary Bennett, Educator, Coalition for Effective Public Schools
* Shané Harris, Vice President of Corporate Giving and Executive Director of The Prudential Foundation
* Honorable Rochelle Hendricks, Secretary of Higher Education
* Donald Katz, Founder and CEO of Audible, Inc.
* Al Koeppe, Trustee, St. Benedict's Preparatory School; Former CEO of the Newark Alliance, Inc.; President and COO PSE&G (Retired) and CEO of Verizon (Retired)
* Jose Leonardo, Student, Arts High School
* Grace Sergio, Parent, Newark Public Schools
* Reverend Perry Simmons, Pastor, Abyssinia Baptist Church
* Christopher D. Cerf, Superintendent, Newark Public Schools
Executive Summary and Full Report Attached.
Share: