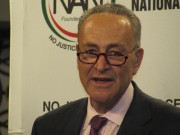 News
•
updated: Jul 10, 2015
The National Action Network, (NAN) Founder, Rev. Al Sharpton, opened registration for all to attend a "From Demonstration To Legislation Legislative & Policy Conference" on July 8-9, 2015, in Washington, D.C., Capitol Hill. Many supporters of NAN came out to the conference for the introduction of policy and how the development of Bills will affect their financial interest of the organization.
A meeting was held on Capitol Hill at the Dirksen Senate Office Building yesterday. Three of Senator Charles E. Schumer's aids addressed the concerns of many activists and ministers regarding Voting Rights, Criminal Justice Reform, The Police Review Board, Hunger In America, Disability Rights, and Immigration Reform as to how it affects many Haitians currently being deported out of the Dominican Republic. Brian Greer, Military Legislative Assistant, and Emily Amick, Chief Counsel to Senator Charles Schumer, stated that Senator Schumer will build connections to close the communication gaps that exists within the community. One piece of the large puzzle to change is mass faults within the system. The Department of Defense cuts programs for funding regarding disability rights, housing and urban development issues, and Hunger In America. Domestic priorities blocks Republicans from addressing the concerns to allocate equal budgets. In order for Senator Schumer to suggest change, voices such as the one's yesterday will deliver a different approach to the House. A Corrections Act Bill has been designed to bring better access to drug rehabilitation programs for front end and back end fair systems for offenders. A Death In Custody Act for interactions with community and policing has been designed. And lastly, advocating for more body cameras has been done to reduce excessive force, and racial profiling to deliver better interactions amongst law enforcement.
Mr. Greer also emphasized that Senator Charles E. Schumer is highly concerned about the African American Issues and holds a press conference every Sunday in case someone missed the meeting.
Share: