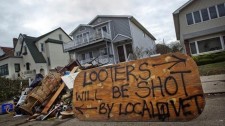 News
•
updated: Mar 4, 2017
The New Jersey Department of Community Affairs has posted a public notice regarding pre-applications for the State Rental Assistance Program (SRAP) Framily, Disabled and Elderly waiting lists statewide starting March 6, 2017, through March 10, 2017. Pre-applications will be selected in the lottery and placed on the waiting lists for persons with disability or Family.
New Jersey - The State of New Jersey Department of Community Affairs (DCA)has launched a new Hurricane Sandy recovery program for low and moderate-income residents to assist one to help homeowners and renters rebuild what was lost due to the impact of Superstorm Sandy. The programs both will provide rental assistance for one year to first residents who lived in the nine counties of New Jersey on October 29, 2012. The rebuild program under the direction of the DCA has funded over $11 Billion dollars in federal disaster relief aid under the largest grant program for homeowners and renters for families who's income limits average approximately $69,800. The impacted counties -- Atlantic, Bergen, Cape May, Essex, Hudson, Middlesex, Monmouth, Ocean, and Union -- are eligible for the program.
The applicants must have registered for FEMA assistance before May 1, 2013, and must present documents that prove FEMA registration posted on October 29, 2012, existed to be determined to be eligible. A computer randomization will be determined by priority of grant eligibility based upon the substantial damage by Sandy -- if the damage was more than 50 percent of the pre-storm value. Free HUD-certified housing counseling services are available for current applicants who have received a $22,000 grant for the year in one of the nine counties along with other free services under the Sandy Recovery Housing Counseling Program. Interested applicants can may also complete and submit the Superstorm Sandy Assistance Notification Form to receive additional emails and alerts about the program.
More information including an FAQ can be found here: http://www.nj.gov/dca/divisions/dhcr/srap_vouchers.html. Please note that applicants may submit a pre-application to more than one waiting list if they are eligible (for instance, a person with a disability may submit a pre-application to the lottery for both the Family and Disabled waiting lists).
IF I HAVE QUESTIONS WHO SHOULD I CONTACT?
You can contact the New Jersey Department of Community Affairs, Applicant Services Unit (ASU) at 609-633-6157or dial 609-292-4080, and select Option 8 on the Menu, Monday through Friday from 9:00 am to 5:00 pm.
Share: