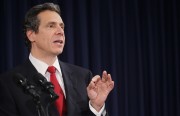 News
•
updated: Aug 31, 2015
Governor Andrew M. Cuomo announce that New York State will receive $3.75 million dollars in grant monies over the next five years from the Centers for Disease Control and Prevention. This grant will enhance treatment and aid in the prevention of stroke. This grant is important because stroke remains the fourth leading cause of death in New York with 6,000 deaths to date yearly.
Strokes continue to account for the major cause of death or disability. In New York, due to the stress related within the workplace to drive what is known as the "American Dream", stress levels in New York City have accounted for more than 6,000 deaths today. With the announcement of this new grant, Governor Cuomo stated, "Stroke continues to be a major cause of death and disability in New York, but advances in treatment have started to make an impact on survival and recovery." Gov. Cuomo feels that funding efforts will incorporate life-saving preventive measures that were previously gapped in New York's health care system.
The New York State Department of Health expanded upon an existing New York Coverdell program that was created in 2012 with other Federal grant monies, but this new funding will transition in-hospital care for acute stroke to community education and emergency medical services that address stroke risks. New York is one of nine states to receive funds under the Paul Coverdell National Acute Stroke Program. Since 2013, New Yorkers have had more than 43,000 strokes and 49,000 hospital discharges due to stroke.
For more information about stroke, visit http://www.health.ny.gov/facilities/hospital/stroke_centers/stroke_resources.htm
Photo by Mario Tama/Getty Images '09
Share: