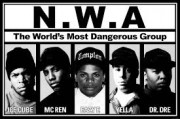 News
•
updated: Aug 26, 2015
Review: As a native-born Californian from the area of Oakland who experienced the real story of drugs, disturbances, and the first amendment right to free speech during an assembly, Niggaz wit' Attitudes (N.W.A.) was an excellent caption to the story of a "radio." The film's producers were Ice Cube, Dr. Dre, and Eazy-E's widow, Tomica Woods-Wright.
So why all the gang hype over a story of how a radio was transformed into a microphone audio version of news for Californians? Mexicans, Blacks, Whites, or anyone that understood the struggle of being in a State of Emergency due to their race or class had a story to sell from their trunk to the store. Feeling that experience and relating to a cause is what California was all about. The art ist had a message to deliver to a large audience
and everyone wanted to hear it. The police on the other hand had a message to deliver and the First Amendment became a reality of policy and politics on the side lines. So how do you really monitor one's behavior in a society driven from aggression, drugs, unpractical sexually unacceptable behaviors, illegitimate children, Aids, and the refining of videoed taped police beatings?
You begin to tell your
story as if you are that person, that struggle, that experience, and that campaign for justice to respect. You become the spokesperson for your own economic democracy so that others within restricted or rural areas can know your world views.
This movie was an excellent depiction of today's struggle in a social inequality world of cultural definitions that labels liberals and supremist within an economic fight for wat "money". We are free men today with future directions to shape the societies we are within, except for Californians it is a shsred knowledge of the same systematic ideology of being black with a clothing lifestyle. If you have not seen the movie, it is a.must see!
Share: