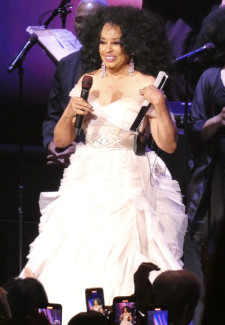 News
•
updated: Jul 1, 2023
The iconic singer and actress Diana Ross announced her #1 chart absorbed toppers at the famous Radio City Music Hall in New York City Times Square venue. A sea of young and old were energetically captivated by the fashion, photography, art, and the historical visual vocals of Ms Ross "The Boss" from Detroit. The show was sold out and Diana Ross owned all rights to the crowd participants with word after word of timeless soul hits. There was no need for an opening act for Ms Ross's life legacy spoke for itself.
New York City - The Music Legacy Tour 2023 announced in March was an announcement of Ms Toss's net worth to society and how she has made an impact on so many lives driven from her music career. Born in Detroit, Ms. Ross displayed her photographic journey on stage of how she exploded into an iconic singer most know to baby boomers as part of leading The Supreme's, labeled by Motown. Last night all of the 45's featured songs were song solo with Diana Ross's signature vocalists and band.
From her acting career hits to her modeling simulations and most remembered movie portrayal of "Billie Holiday" along with "Lady Sings the Blues," Ms Ross walked the catwalk on stage last night with her timeless beauty. Ms. Ross announced she was 79, during her sold out performance which led to her deliverables of forward thinking strategies to keep her audiences focused on remembering the echoed voice will never die.
Ms. Ross released snippets from her never heard before album songs of how blessed and spiritual she had become after COVID-19, called "Thank You" which she collaborated virtually to create. The snippets were designed creatively that most of last nights audience had tears of joy for surpassing the 2019-2020 devastation along with the remake of "Why Do Fools Fall in Love."
With "Ain't No Mountain High Enough" hit that brought the Legacy of Diana Ross's clout to the solo stage, Ms Ross emphasized how powerful her band was in the industry as she has wrote songs for many included, Kendrick Lamar.
The latest milestone of Diana Ross's legacy was a street named after her accomplished career of stoned success.
Share: