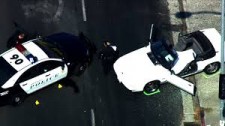 News
•
updated: Sep 28, 2017
Since of the death of Javonte Prothro, 29 and Chrisean Nealy, 18 in Richmond, California last September, the Manor Boyz of 4500 John F. Kennedy, low income housing complex has been named as the responsible enterprise. The Contra Costa County DA and the FBI Safer Streets Task Force have made dozens of arrest in connection with these members, who has also been responsible for homicides in Vallejo.
New York Press Release - Safer Streets is the demand for the "Prothro Family" who has lost their loved one, JaVonte Prothro, 29, father of 3, to gun violence last year in Richmond, California. Operation Big House and Crescent Moon has been named in January 2017, as the responsible investigation strategy to bring down this gang triangle. A street once spelled in a candlelight vigil last year in the cultural name of "NuNu 4500," to respresent the purpose and heritage in the City of Richmond as a former resident and employee near the low income housing projects, became a community demand not only in California, but New York City as well.
Since September, officers have recovered three guns, cash and narcotics and evidence of credit-card fraud, since the alleged Manor Boyz associate, Dawaun Rice, was indicted on two murder charges in May 2017. Kennedy Manor, from the Civil Rights era, now known as Monterey Pine Apartment Complex houses the named Manor Boyz. a Richmond-related gang member enterprise to include Deep C, Easter Hill, and North Richmond gangs, once mentioned in a 2004 incident in Berkeley, California stemming from Bloomfield, NJ police violence involving a Maria Castro and Robert Holiday (of the Elizabeth Projects) announcement inflicted on the Aunt of the decedent, JaVonte Prothro.
The rivals are known for their Rhetoric throughout Brooklyn, NY.
Share: