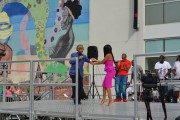 News
•
updated: Aug 30, 2015
Sharpton Entertainment, LLC, headed by Ashley Sharpton held their 10th Annual Fashion and Talent Show called "Put On For Peace" in front of the Harlem State Building at 125th and Adam Clayton Powell Street today. Several Top Fashion Designers, Hot 97's DJ Spazo and celebrity guest from VH-1's "Love & Hip-Hop Stars, Tara Wallace and her husband, Peter "Gunz" Pankey all hosted the event.
As the "Put On For Peace" event opened National Action Network member, Mrs. Shakur, mental health coordinator, was recognized for her resilience within the community movements by standing on every street corner in Harlem to advocate for change. Mrs. Shakur reminded the crowd that a tight fist gets things done today and as everyone unites for change justice will get done. Also being honored was the widow of "Eric Garner", the Staten Island man placed in an illegal choke hold on July 17, 2014, today was her birthday celebration.
Beauty at its best by some of the most hottest designers were gleaming today as the cast of models illuminated art through Fashion. The inner beauty of the African American woman during Harlem Week was promoted and celebrated to make Rev. Al Sharpton dance until he's young again. Drone's were capturing photos in the air as each performer took the stage to tell their story of social justice and why it was important to promote unique Black Nativity Language within their communities to remain united in a misunderstood society. Racial undertones by Whites were unacceptable due to the belief that self-procreation belongs with race class.
The 41st Anniversary of Harlem Week ended with a bang as this "Great Day" in New York's history remembered rich history, beauty, fashion, and culture that dated back to 1974. Although Rev. Al Sharpton's, "Sharpton Entertainment LLC" was not connected to the "Welcome To Harlem Calendar" of events, the Fashion Show was a misunderstood statement to educate all to the rich revolution of Hip-Hop and the American Dream of being "Black" in Harlem, New York.
Share: