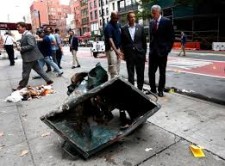 Governor Cuomo Directs State Police and National Guard to deploy 1,000 uniformed officers across New York Metropolitan Region following an explosion in the Chelsea area of New York City. An abundance of caution has been announced after rigorous inspections were ordered by Governor Cuomo to restore service on the No. 1, E and F subway lines. MTA and PATH systems have suffered no structural damage and all trains are running on schedule today.
New York City Press Release ~ Governor Andrew M. Cuomo today directed the State Police and National Guard to deploy an additional 1,000 uniformed officers out of an abundance of caution to high-profile locations across the state following an explosion in Chelsea on Saturday night. At the Governor's direction, state agencies, including the Division of Homeland Security and Emergency Services, the New York State Police, National Guard, the Metropolitan Transportation Authority and the Port Authority of New York and New Jersey will remain on a heightened state of alert.
The Governor also announced that after a rigorous inspection, MTA and PATH train service has been restored and both systems suffered no structural damage. All trains running on the E, F lines will continue to bypass 23rd street station and trains running on the No. 1 line will not stop at 23rd or 28th street stations. The Governor visited the site of the explosion this morning and delivered an update on the scene, touring the subway system with state transportation officials.
"Protecting the safety of New Yorkers and our state's visitors is priority number one," Governor Cuomo said. "After thorough inspection, train service has been restored and we continue to work closely with our local and federal partners to monitor the situation. Out of an abundance of caution, we are increasing security at high-profile locations across the city, and all state agencies continue to remain on alert."
Metropolitan Transportation Authority
The MTA has increased its patrols and surveillance in order to provide heightened protection across all its agencies. The MTA Police Department has stepped up its uniformed and plainclothes presence, and police canine teams and emergency service units will provide extra protection as well as a noticeable sign of increased security. Railroad customers will also see surge patrols, increased step-on/step-off patrols of trains, and random bag checks at various locations.
Behind the scenes, the MTA Police Department, MTA New York City Transit security and MTA Bridges and Tunnels Officers share intelligence information and coordinate their response with other police and security agencies to ensure a seamless web of protection throughout the region. Detectives are monitoring and disseminating intelligence information as needed.
PATH
As previously announced, PATH service to 23rd Street and 6th Avenue has been suspended for the weekend to allow work to continue on the tunnels. Work crews were in the uptown tunnel on Saturday evening, and the tunnels have been determined safe for passenger service at this time. PATH service to 23rd Street will resume at 5:00 a.m. on Monday. The Port Authority Police Department has increased high-visibility patrols at all Port Authority facilities.
"If You See Something, Say Something"
New Yorkers are reminded to stay alert to their surroundings, and to report any suspicious activity. Reports can be made to the Counter Terrorism Center at the New York State Intelligence Center via its terrorism tip line: 1-866-SAFENYS (1-866-723-3697); or by email: ctcenter@nysic.ny.gov.
Photos of Governor Cuomo Touring the Site are Available Here
Share: