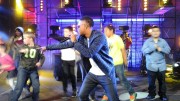 News
•
updated: Dec 12, 2015
"The Year In Vevo" held a year-end celebration yesterday for the New York City youths, located at the Skylight Clarkson Square, in the downtown section of the City near Canal Street. The event was presented by Hulu, and videos, sound booths, picture booths, dance halls, and platform presentations were available to all with live performances by Vevo's most popular partners, Jidenna and Silento.
New York City -- Vevo is a world popular music video and entertainment platform with over 10 billion month global views, according to the Vevo team. The Vevo library to date contains up to 140,000 High Definition music videos that include live concert performances and original programming for all music lover users. Vevo offers various platforms through Vevo.com, and users can connect using a mobile web and apps for mobile/tablets and TVs, or connect directly through Vevo TV.
Yesterday's event was announced back in November, by the New CEO, Eric Huggers, as a celebration of upcoming programming for all Vevo's music fans, slated as a year-end bash celebration. The 2015's most popular music video ":60 with" got picked as part of the fast-paced interview series, and the most videos that received attention from Vevo's network got included in yesterday's bash of integrated technology engagement of IP device, desktops, smartphones, tablets, game consoles and over-the-top boxes.
The Year In Vevo: 2015 featured event starring Jidenna & Silento, on December 11, 2015, focused on several artists and drew in 16, 609 views during December 10-12, 2015, at Vevo.com. Silento is one of them, and is one of America's most popular Hip Hop Artist of all times with over 475, 728, 782 million views on Vevo to date, broadcasting the Official hit "Watch Me." According to Silento, the rapper made a name for himself by singing and dancing spurring national attention to fame when his single "Watch me (Whip/Nae Nae)" went viral on Vine and YouTube, landing him the #11 spot on the US Billboard Hot 100 chart. At age 17, Silento's, Social Justice Activism for the "Year In Vevo" was to contribute to the social justice movement by donating $500 to the best Whip/Nae Nae dance in recognition of his personal relationship with people who were in need of Christmas magic.
Jidenna, has described himself as "The New Jim Crow", in the Vevo.com interview ":60 with" (presented by Old Spice). His style is one of class and elegance, influenced by Malcolm X. Jidenna has positioned himself as one of the great Record Producers in the music industry. Jidenna, an American-Nigerian, is part of Wonderland Records, and his social justice activism is a prominent systemic reform approach for larger social change to eliminate racism by delivering conscious visual thought within his videos by broadcasting change. The Brooklyn native held a "guess the lyrics" session to engaged with all Vevo users yesterday, as a way of delivering to the social justice movement to donating charitable gifts on behalf of Vevo's year-end bash cause.
When Celebrities recognize the approach to social justice activism, not only are they informing Youth of the celebration; they are telling New York schools by transforming their world using the sounds of music, and a new digital divide is to educate. Events are always a "Celebration of Diversity" for Vevo to contribute to the people that bring together their leadership, Challenge, and Awareness of why digital users matter.
Share: