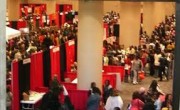 The Circle of Sisters Expo 2015 in association with AT&T Mobility and the City of New York (COBA) presents Exemplar Leadership at the Jacob K. Davits Convention Center in NYC. The theme this year is "Moving" "Changing" and "Growing" direction for over 200 vendors mirrored by a ton of Celebrity Guest to sell unique products and services designed for the celebration of African Americans today.
New York, New York, October 15, 2015 (Newswire.com) - ​​​​​​​​​​​​​​​​​​​​​The Circle of Sisters is one of the largest expositions for women of color that attracts over 50,000 people covering a two day event. This years expositions will be held at the Jacob K. Javits Convention Center, located at 655 W. 34th Street, New York, NY. The presentation of events designed to unite, empower and celebrate people of color is by AARP Real Possibilities, in association with COBA and AT&T Mobility, along with other top-rated sponsored events from Health First, Cooking Pavilion and NY's 529 College Savings Program Events Hall.
According to a Black Enterprise Business Report, the name Circle of Sisters was founded in February 1998, sketched from the creations of a Narcotics Anonymous group of recovering addicts who visioned a fellowship in Portland, Oregon. Today, Circle of Sisters is in its 15th year of delivering over 200 vendors combined in two days and small businesses, panels, seminars, and inspiration in the form of gospel expositions and concerts in New York City's Jacob K. Javits Convention Center from the African American experience of personal leadership. The Circle of Sisters is supported by premiere African American Radio Stations in the New York City area brought to you by WBLS 107.5 FM, the New York Urban Adult Contemporary source of R&B, WLIB 1190 AM, the leading Gospel and Inspiration station, WQHT HOT 97 FM, the World's First all Hip-Hop station with over 10 years of dominance, and Emmis Communications, a diversified media company whose principal focus is on radio broadcasting. Emmis owns 19 FM and 4 AM radio stations in New York, Los Angeles, St. Louis, Austin, Indianapolis and Terre Haute, IN.
This year's two day schedule of celebrity scheduled events is mirrored by Chez Lucienne, B.E.T.'s, The Men of Being Mary Jane, Celebrity Chef Melba Wilson, Comedian Loni Love, Alvin Ailey Dancers, Gospel Artist Tonya Lewis Taylor, Celebrity Chef Cisse, Capitol Artist - Avant, Warner Music R&B Artist: Vedo, Sylvia's Restaurant, Former Destiny Child Farrah Franklin, Bobby Brown, Singer/Songwriter Jimmy Cozier, Celebrity Chef Jeff Henderson, Gospel Artist - Janice Gaines, R&B Artist - Jeff Redd, Gospel Artist - Latice Crawford, R&B Artist Guordan Banks, Tina Campbell, R&B Artist Demetria McKinney, Gospel Artist - Alexis Spight, Gospel Artist Sheena Lee, and SWV. Along with this line up Circle of Sisters will celebrate relationship discussions, health trends and financial advice, and fashion styles suitable for women of color. Breakout sessions of the latest marriage advice from celebrity couples to children to understanding health insurance have been announced under the AARP presentations of Real Possibilities. Later that evening performances to celebrating music and culture on Saturday, October 17th at The Theater at Madison Square Garden in New York, NY, Circle of Sisters will present R&B Live with the legendary Chaka Khan, Avant, and Tamar Braxton. Tickets for this event can be found at www.ticketmaster.com
On Sunday, a Circle of Sisters Worship Service will be held from 8:00 am to 11 am for the NY's 529 College Savings Program Special Events Hall led by the very own Bishop Hezekiah Walker to inspire the people and lift up the Word of God. Followed by Bobby Brown's Cooking Pavilion at 12pm. And as the events spiral down to the end of the day, a Metro PCS Gospel Explosion featuring Anthony Brown, Tina Campbell, Tasha Cobbs, Pastor Charles Jenkins, Brian Courtney Wilson, and Casey J will hold a Gospel concert at 5 pm (which is a separate ticketed event).
For more information on this event log onto http://www.wbls.com or http://www.hot97.com/events/concert-calendar/circle-sisters-0
Contact: ​Lindsay Salandra, Publicist & Digital Communications Manager, Emmis NY (WQHT, WBLS, WLIB) at LSalandra@emmisny.com
Share: