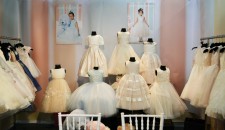 The New York International Bridal Week is a public trade show, convention, and network of meetings amongst some of the world renowned designers, icons, and shoemakers in the private collection of fashion. Vendors from all over the world open their trading booths to upcoming home-based businesses, start ups, event production companies, public relations consultants, social media analyst, and professional photographers for the opportunity to engage in the next generation of job creation.
New York City -- The New York's Premier Show, New York International Bridal Week, opened their doors to new exhibitors and existing exhibitors in the world of Bridal Couture and Fashion. Expressions of love in hand-made Italian, Dutch Design, 3 Dimensional Birenzweig Roman, Switzerland "Mother-of-the-Bride" Collections, Badgley Mischka Couture Bridal Gowns and Footwear of Beverly Hills, Taiwan-inspired LANYU Haute Couture, and much, much more including the unconditional BELOVED by Casa Blanca Bridal. For the confidential public relations voice mirrored under an 1860 sexual privacy law, a global language that diversifies the translations of public health matters to the upcoming entrepreneur today.
"I have been in business since 1975, and I have traveled many times to Paris to build a brand that supplies quality fabrics that are manufactured for my traders. Entering into this type of confidential public relations fashion industry has made me become a support of Donald Trump," stated Joan Calabrese.
Entrepreneurship for New Yorkers under the vision and business model of Bridal is a business that is identified by all governments in and out of the United States. The doors of the trade have been opened for the last three days located at Pier 92, New York, NY and will return in October 2016, in case you have missed your opportunity to flex your muscle.
Share: