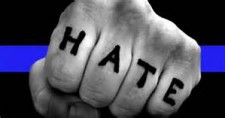 Louisiana is the first state to nationwide friction to support the signing of the new bill "Blue Lives Matter." Governor John Bel Edwards signed the bill into law today expanding the definitions to protected class to add the state's hate-crimes statute for targeting police officers, firefighters and EMS personnel.
Louisiana - The House Bill No. 953, represented by Rep. Lance Harris after a Houston Texas Police Officer was targeted has been amended to an Act of Legislature to become law. Relative to hate crimes, the Legislature of Louisiana has decided to amend and reenact Statute 107.2 Hate crimes to get unlawful for any person to commit an offense against a person and property because of actual or perceived membership or service as a law enforcement officer, firefighter, or emergency medical services personnel. Today aggravated criminal damage to property, contamination of water supplies, vandalism or even criminal trespass will land you a ticket.
This bill marks history for the state under the "Blue Lives Matter movement to protect legacies of law enforcement to seek stiffer penalties against people convicted of intentionally targeting vulnerable groups from deadly ambush. Although "Black Lives Matter" was promoted in the state, stokes of fear against law enforcement rose due to cited threats reported under the national crime statistics log since the ambush-style murder of Sheriff Deputy Darren Goforth at a gas station on August 29, 2015, by an African American. Motive related murders are unacceptable anywhere especially in the state of Louisiana after the Bonnie and Clyde erection in 1934 when another Sheriff officer lost his life by bank robbers.
Share: