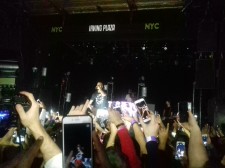 News
•
updated: Dec 10, 2016
Saying I Told You To A Sold Out Crowd In New York City is no mistake for 24-year-old Celebrity, Tory Lanez. The Irving Place Venue was full of spiritual love as all dreams of getting up close and personal with Mr. Lanez came true for the "I Told You" Fans last night. Although Tory Lanez's business model introduced mix tapes, singles, and collaborations to his name, the audience told differently.
New York City ~ Tory Lanez is no longer a mixtape debut that you hear on collaborations today. The singer/celebrity has a testimony behind his success as he tells his story in his first new album, "I Told You." The Canadian born hip hop/rapper songwriter recording artist, also known as Daystar Peterson, has emerged on the Billboard charts by making his first $1 million. His name just like his electrifying, crowd-engaged performance is one-of-a-kind for the 21st Century forward-thinkers because Tory gets the crowd to feel, breed, and project their voices to innovate new recipes to share love, reality, and success.
If you missed the hottest concert on the planet last night, you might consider purchasing the new album. This massive headlining tour featuring Atlanta singer, songwriter, Jacquees, Kranium, Kurt Rockmore, and VeeCee far excels the New York crowd and is a privilege for all with its Meet & Greet VIP packages and early entry into the venues to get social!
Share: