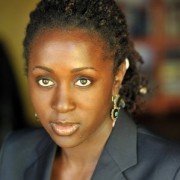 News
•
updated: Aug 18, 2015
It has been over 500 years since Christopher Columbus discovered America and under 500 years since the Emancipation of Slaves. Is there a deep-rooted misunderstanding of the word "prejudice" and how it is perceived when African Americans share their experience of Africans? A UX Film Festival presented a documentary "Bound" as a in depth look of the African vs. the African American view.
Review: As a Black woman who has been compelled to experience reckless disregard for a proclaimed freedom as a birthright, a campaign was formed to address Human Rights issues exposed to a class called the "Native American Collection", black people. The campaign is called "Human Rights Policy Project" and the scope focuses on the harmful practices that perpetuate inferiority for women that are not traditional rituals under First Amendment as it relates to human rights law. As a result of my new campaign message "Little Girls Are Not Belt Buckles To Men", an invite was extended to attend the UX Film Festival: "Bound", by film director, Peres Owino, an African documentary about the misunderstandings and prejudices between African immigrants and African Americans.
After the Emancipation of Slaves in America primarily chattel slavery, women were referred to as "Negro" or "Black" either with a registered name at the county clerks office or free person on the Federal Census. The only other Negro or Black on the Federal Census listed on the Nativity schedule for mother tongue speakers were what was perceived as the Native American Collection free Blacks with no history of slavery. So how do you present an experience of non enslavement to a person who never knew emotional pain or oppression? What reflections will a person without a record of slavery see in their mirror? Why become unbroken to be labeled as "broken?"
Dr. Lenora Fulani and Peres Owino held a post discussion after the viewing around the issues of the documentary "Bound" about how connecting blackness for African Americans is just like a Civil Rights Movement that results in "post-slavery post traumatic stress syndrome." When African Americans reflect upon slavery they think of Africans in chains. When Africans reflect upon slavery they thing of "that happened over in that part of the continent." So, what is the disconnect? Why are African Americans stereotypical of Africans when it come to paradigms? When experiences are examined to formulate a learning cycle for action and reflection, then no one can generate an in depth understanding of commitment that is required to generate change within a "Black" oneness. The introduction of this practice can be explored more on iTunes or Amazon.
Share: