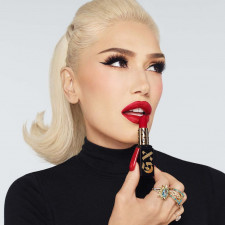 News
•
updated: Mar 22, 2022
Gwen Stefani is buzzing in the fashion and makeup world with a new beauty brand called "GXVE." The Black and White A-list style product line is inspired by 35 years of transforming colors into lips, eyes into brows, eyeshadow into art, and eyeliner into cat-eyes.
Hollywood, California - It is "Cherry Red" and the new Gwen Stefani "GXVE" lipstick and makeup line has landed in all Sephora's as of March 10, 2022. This singing sensation and actress is becoming the latest celebrity brand to transform her customer service skills into the cosmetic world. Sephora's is the official retail partner who is expected to carry this new celebrity A-list line of colour along with eight other "GXVE" products for the face, brow, eyes, and face oil.
According to Elle.com Gwen Stefani stated she would always scramble to find red lips to wear as it is her signature makeup look. Her Original recipe to the product rooster includes:
Lip
Original Me High Performance Matte Lipstick ($26)
Anaheim Shine High performance Satin Lipstick ($26)
I'm Still here Lightweight Longwear Matte Liquid Lipstick ($24)
Brow
Hella On Point Ultra Fine Brow Pencil ($24) in 7 Shades
Mos Def Instant Definition Sculpting Brow ($24) in 7 Shades
Face
​All Time Prime ($48) - Oil Primer
Stefani joins fellow singers Rihanna, Selena Gomez and Lady Gaga to launch a beauty brand.
Share: