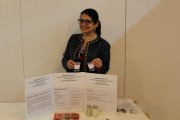 Paul Rothbein, host and organizer of Show and Tell-Makers and Content Creators, hosted a sharing of the economy event at the Knotel Building located at 33 West 17th Street, New York, NY tonight. Many upcoming designers, tech's, and models came out to showcase their products and services to the public. Also video creators were invited to film content about disruptive products hitting the market.
New York City --
Economy Enthusiast, Paul Rothbein hosted a Show & Tell-Markers and Content Creators exhibition last night located at the Knotel Building, 33 West 17th Street. The exhibition is one of many Mr. Rothbein hosts and last night's special event was geared towards startups, makers, designers, and inventors to showcase products and services to all that attended. The event was scheduled to broadcast on Periscope as a way to deliver great publicity in streaming video content for creators to produce film.
The line up of disruptive breakthroughs involved two different sectors, Fashion and Tech. Some of the new names hitting the market and one who has already appeared on GMA Channel 7 News, was Eric Mann, Creative Director of SUM Company. DoS Owls, founder Alex Yoo was also amongst the sea of inventors with his new product ODIN, a optical projector, speaker, internet, and android portable device to view media on a huge screen. Virtual reality was also an augmented reality when Founder, Bracey Smith gave a virtual experience of stepping inside of a computer screen using emerging tech head gear and a Samsung 6 phone connector. Look out kids, for $100 bucks you can get a virtual one step experience into a world of libraries, racecar worlds, or what ever you want to image this Christmas.
The other exhibitors, to name a few were Loren Abdulezer of "Evolving Technologies Corporation," Maurice Bey, "Print It 3D" and Founder of www.MediaMagic Box.com, a new cluster breakthrough using Live TV streaming, William DePalo, designer of the Transportation app – Bus Visor NYC (which is a location aware app to enable speech for retrieving MTA bus information), the new AppFriends "Freely Speak Your Mind" app called "Shush," Founder of "Healthy Hint" , L. Eliza Colon (spices mix to enhance lifestyle weight loss), and Visual Arts Fashion Founder, Director, Felipe Urteaga, of "SickIndividual" the Illness You Want (www.sickindividual.co).
To learn more about Mr. Rothbein hosting can be found on Eventbrite for those that would like to get social. "Immersvie Filmmakers Get Together At Distillery," is the next upcoming event featured at Eventbrite.com.
Share: