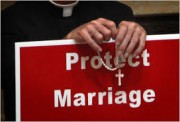 Traditional politics and interest groups have reinvented same-sex marriages to drive interventions on barring Religious methods of Baptism for Mormon kids. The mainstream Left-Right debate sheds light on why Religious methods and social policies must drive a green light ideology today's debate. In a report by NPR, a new policy will now bar same-sex couples and the children.
(Source: NPR) -- Controversy surrounds a 6-year-old child today of becoming educated under the Mormon church in North Salt Lake City. The law for same- sex couples allowing Protections for Religious Expression and Beliefs about Marriage, Family, or Sexuality (S.B. 297) sponsored by J. Stuart Adams and House Sponsor, La Var Christensen, states that a new chapter to establish certain religious protections will prohibit government and a government officials from taking negative action against a licensee who holds a professional or business license based on the licensee's beliefs or the licensee's lawful expression of those beliefs in a nonprofessional setting and the law provides remedies for violations. So why the debate over deep green ideology today regarding the umbrella of religions?
For 6-year-old janice Unsicker, religion now has to be explained to her and her 3-year-old brother, Trevor, as to why a deep green ideology has prevented what is accepted in society as a married couple is not accepted due to the social welfare of the household misdirected under education. The acceptance and announcement of lesbian, gay, bisexual and transgender people by the church that marries them is still a freedom of expression issue.
In the report by Andrea Smardon, NPR, Church officials declined an interview, but in a recently released video, church leader Todd Christofferson explained that the intention was to leave the room for doubt about what is recognized under the eyes of ecclesiastical purpose and marriage.
Share: