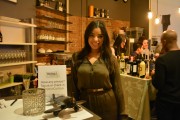 Wide Society affiliations to promote positive change happens when other societies, organizations, and media come together to address Constitutional issues that affect the usefulness of Blacks in the media today. Yesterday, Wide Society hosted an event at District CoWork, located at 1204 Broadway, New York, NY to set the purpose for Society Policy engagement. The usefulness of Black media during Black History Month set the tone yesterday for the exchange of information to promote purpose.
New York, NY -- The Constitution lists purpose as one of the Society's which includes: "Promote the exchange of information among others within organizations." So to promote change during an Oscar's Party, policy discussions to address the affiliations within a Society-wide level with other societies and organizations that typically do not provide Media representatives, must interact using scientific disciplines for memberships.
During Black History Month, District CoWork set the tone for the Black voice or group voices to be heard sparking privileges of exchange to the elite. The support joint efforts of Judges, Lawyers, Media, and Professional Photographers, set the tone for program discussions in a private viewing of the Oscars. The President of the New York Associations for Black Journalist also offered mutual interest and administrative relationships for her in-house news reporters to obtain a new niche of broadcasting newsworthy stories to support Black actors. According to Ms. Walker, Black Voices or Voices for change are short-staffed due to a gap in Business Management Services to diverse description within the job market today. More key roles are needed in the world of journalism to penetrate high-growth fields to set prestige for future writers. Ms. Walker stated, "Advanced education that is relevant to the field of journalism is a passion that sets the applied methods for salary grades today." Ms. Walker plans to embark on the path of setting specialized descriptions to boost News Reporting Careers as a specialization in business management.
District CoWork is a new NoMad's members' only club for start-ups and freelancers in tech, film, fashion, media, and industry disruptions, according to its short description and will be continuing to offer Start-up Pitch Nights each month to new innovators in the field. Private Membership, Premium Workspaces, Private Offices, and Flexible Event Spaces are available.
Share: